Mosley Defeats Archbishop McCarthy In State Final
Photo Gallery
Box Score
Ever since they were little kids, Mosley's Coleman and Hudson Rowan have dreamed about playing together to win the state championship. The two siblings used to imitate the dream in the backyard, with Hudson pitching and Coleman doing the catching.
Wednesday afternoon, that dream became a reality. Hudson Rowan started and his big brother was behind the dish to catch for him.
Both Rowans played huge roles in a spirited team effort, as the Dolphins stormed to a 9-2 victory over the Archbishop McCarthy Mavericks in the Class 5A state championship at Hammond Stadium in Fort Myers. It is the second state title in program history, to go along with the 2002 state crown, and it also helps erase the memory of recent years past in which the Dolphins lost to this same Archbishop McCarthy team in previous title games.
"If you grow up where we grew up and you play baseball, you want to go to Mosley," Coleman said. "So growing up, in the back yard I would get down and he would throw to me. We said that it was going to happen one day in the state championship, and so for it to happen is surreal. I still have chills right now just thinking about the whole experience. For him to come out here and do what he did and me to be able to catch him, it is really awesome. It makes me feel really good and I am just really proud of him."
Hudson Rowan rewarded the coaches faith in having him start for the Dolphins, as he delivered on the biggest stage of his baseball career. Through the first six innings, the only base hit the Mavericks managed was a slow roller from Jack Cue along the third baseline that never left the infield, as the Mosley third baseman waited on the chance it might have rolled foul. Cue was immediately erased at second on a stolen base attempt.
Hudson Rowan did not allow any runs in five innings, with five walks and a strikeout.
"For me, as a sophomore, I only pitched in six games. But whenever my name was called, I was ready," Hudson Rowan said. "The first inning was a little sketchy after walking it full, but I focused on my target and after that I was good the whole time. I just had to make sure I was separating over the rubber, and after that it felt really good. I was comfortable with my curveball and my changeup; I was comfortable with everything today."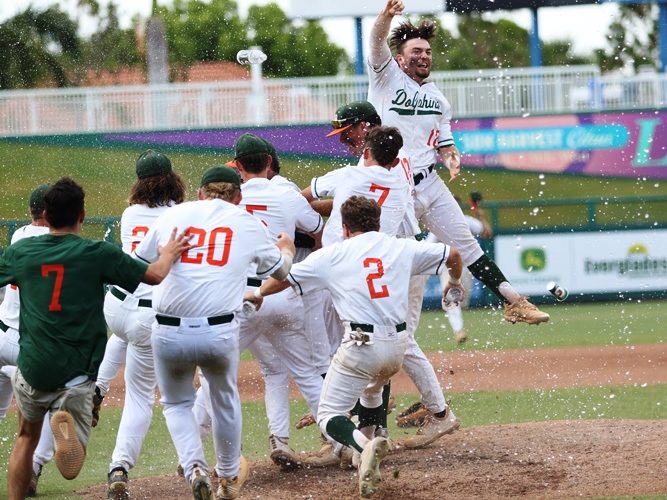 The first inning did not start exactly how Mosley could have wanted, as the Mavericks loaded up the bases without the benefit of a hit. Antonio Jimenez and Stefano Molaro drew walks to start the bottom of the first, then advanced on a ground out to first base for the first out of the inning. But then Zaid Diaz also walked to load the bases and put McCarthy ninety feet away from taking the early lead.
"I was in the bullpen before the game and was soaking it all up, and then when I ran out to center field I realized that I was really here and this was my opportunity," Hudson Rowan said. "It took a minute to soak it all in, and in that first inning I struggled a little but. I had jitters at first, but after that I was ready to go."
Hudson Rowan buckled down to get a called third strike, and the next batter popped out to shortstop Ethan Campbell to end the threat unscathed.
"It's obviously a bit of a roller coaster when my little brother goes out there and we immediately are in a bases-loaded situation. For him to come out of that, that was a big deal," Coleman said. "That started the rollercoaster, and ever since it was just shaping up. We got four runs with two outs and it really picked us and put us in a good spot. But we kept talking that we had to play a full seven, and we were able to do just that."
Those four runs came in the top of the fifth inning. The Dolphins loaded up the bases with one out, as Rock Holland led off with a base, Ethan Campbell dropped down a sacrifice bunt and reached on an error and Trent Nelson singled after Jacob Payne's fielder's choice erased the lead runner for the first out. Jaden Rudd came back around at the top of the order, after already owning the first hit for his club back in the first inning.
Rudd will likely remember his second hit on this day much better, as he stroked a bouncer past first base and into right field for a two-RBI double. Two batters later, David Hudson reached on an error that plated Nelson, and Rudd made it 4-0 when he crossed the plate after a wild pitch.
"I knew everybody was looking up to me in that big moment, and they have been all season," Rudd said. "I'm the senior around here, and the guy who everybody looks up to, and I took that role and understood that I'm the guy that everybody wants up. I'm the guy to put us in the best position to capitalize off of it, and I did and it just feels amazing that I took a good at bat and the ball fell and we got some runs out of it. Obviously, I wasn't the only one, we got a lot of run support."
Mosley tacked on five more runs in the top of the seventh. Payne was hit by a pitch, and then replaced on the bases by pinch-runner Nathan Kelley. Kelley broke on a 2-1 pitch and stole second base to get into scoring position, and catcher Coleman Rowan deposited an RBI single to left field. Courtesy-runner Riley Dismukes came in to run for Rowan, and David Hudson walked. Tyler Wave then lined a shot into the right-center field gap to drive in both base runners.
The Dolphins still were not finished. Cole Horton was hit by a pitch and Rock Holland followed with a liner into right field for an RBI single that drove in Wave. Campbell then walked, and Kelley worked a seven-pitch at bat to earn an RBI walk that completed the scoring.
"It's definitely easier to pitch with a lead," Hudson Rowan said. "A few batters came through and hit the ball really well for us. It's really easy for me to go out there when the guys do that for us."
Blake Thomas closed out the final two innings on the mound for Mosley. He surrendered two unearned runs on two hits and a walk, and he struck out three.
Down to their final swings in the bottom of the seventh, the Mavericks kept fighting to the end. Jake Alfaro reached on an error and Adrian Vega followed with a base hit past third base. Mosley got the next two batters, but Antonio Jimenez then broke up the shutout with an RBI single to right field. Stefano Molaro walked to load the bases, and the Mavericks added another run when Andrew Ildefonso was hit by a pitch for an RBI the hard way.
But a ground ball right to third base was easily converted for the final out, and the Dolphins finally earned their chance to celebrate the victory over Archbishop McCarthy.
"If you pitch well, you play defense well and you hit well, you're gong to win," Rudd said. "That's what we did today. This feels awesome, and it something that I have dreamed about for the past four years, and even before that when I was a little kid. Everybody wants to be a top dog and this was just a lot of fun. It was a long ride and I'm glad that everything went our way and we came out of here with a win."
For the win to come against Archbishop McCarthy only seemed fitting. Mosley lost to the Mavericks at the state tournament three straight seasons from 2015 to 2017 to forge a small rivalry. Wednesday's result is a tribute to those former Dolphins who went down swinging against the storied McCarthy program.
"For me, I think it is just the satisfaction for all of the other guys who played in the state championships before us," Coach Hudson said. "They were a part of this as well and share in our state championship here. It is a special feeling for me and all of our coaches here."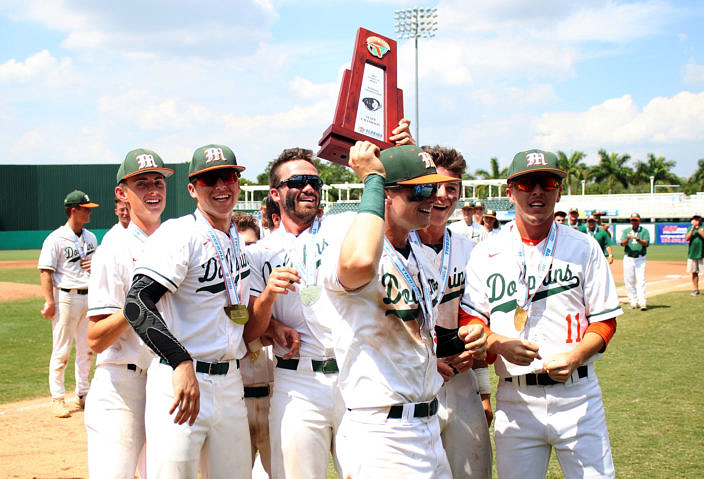 From the moment they arrived, the Dolphins carried themselves like champions both on and off the field. The stigma of years past had no ill affect on them, as they went about their business with one singular goal in mind.
"That just shows what kind of kids that they are," Coach Hudson said. "They are great kids and they come from great families. They've invest a lot in them, not just in baseball. It is a special feeling to have this group of kids out here with me. They have fun, they enjoy the game and it is not work to them. It is a fitting end for a good group of kids."