Wakulla Christian Blanked In 2A Semi By Seacrest Country Day
Freshman Justin Jackson pitched well beyond his years on Wednesday, leading the Seacrest Country Day Stingrays to a 9-0 victory over the Wakulla Christian Saints, in a 2A state semifinal at Hammond Stadium in Fort Myers.
Jackson went the distance on the mound, tossing a complete-game shutout. The left-hander was composed beyond his years and he hit his spots all afternoon long, allowing five hits and striking out six.
"Jackson just shoved it down us. It was just a great game by that young man throwing on the other side," Wakulla Christian manager Bubba Dempsey said. "We thought we had the right approach to get him. We squared balls up but the ones we squared up we just hit right at people. Tip your hat to them, it was an awesome job by them. They sprayed the ball around. We made a few errors that helped them out, but ultimately we just ran into a buzzsaw today and you tip your hat to them."
Seacrest (20-9) struck in the bottom of the third inning to get on the scoreboard and take control. The Saints came up with an uncanny play to record the first out, as Dan DiNorcia put a charge in the ball to send it deep to the left-center gap, where it bounced out of center fielder Allen Willis' glove but was then snared by left fielder Grant Barber on the ricochet. The unlikely L8-7 putout is possibly the first play of its kind in the entire history of the Florida state tournament.
"It was just crazy, it was a crazy catch," Dan admitted. "I was going to run it out no matter what and I didn't know what to expect."
Jordan Martinez and Matt Riley both singled to follow and put the pressure on, and Andrew Geiger then delivered in the clutch with the first of many key hits by the Stingray offense. Geiger lined the ball just past the diving second baseman to drive in both runners and give Seacrest a lead it never surrendered.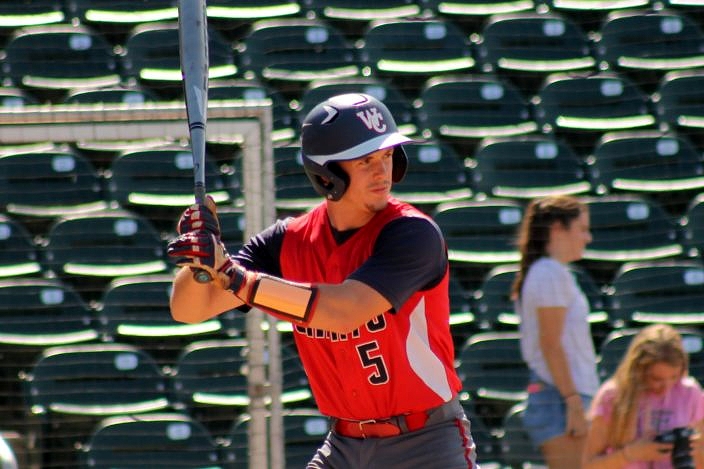 The Stingrays continued adding runs to increase its lead, next with two more runs in the third that doubled the lead. Thomas Cepero led off with a base hit, advanced to third thanks to sacrifice bunts from Dwight Zafra and Kyle Kruk and scored off an RBI single from Dan DiNorcia. Matt Riley then drove in another with a base hit to center.
Another inning brought another run to push it to a 5-0 advantage. Geiger reached base on an error to start things off, and Brandon Espinosa sent a liner just fair into the left field corner for an RBI double.
Meanwhile, Jackson continued to frustrate the Saints (18-3).
"That is usually our M.O. is that we swing a big stick and we always put pressure on people, but when he keeps you at bay and you can't get on there is not much you can do," Dempsey said.
Wakulla Christian finally got things going offensively in the top of the sixth. Lyric Oaks lined a single to center and Aaron Collins followed with a flare into shallow right field. But Oaks was erased attempting to advance to third base, which proved costly when Aiden Driscoll-Sandusky followed with another base hit to right. A pop fly to center then ended the threat.
Seacrest got right back after it from there, loading up the bases with no outs to start the bottom of the sixth. Dan DiNorcia walked, Martinez singled and Riley also walked to fill up the bags. Geiger came through with a sac-fly RBI and Espinosa ripped a liner past the drawn-in infield defense for a two-RBI single that made it a 8-0 lead. Cepero then sent a flare to center just out of reach of the diving outfielder to plate Espinosa for the final run of the evening.