Pollack Pitches Lincoln Past Nova & Into 8A Title Game
Photo Gallery
Hanging up in the Lincoln team clubhouse is an empty picture frame that is reserved for an image of the first state championship team in program history. Thanks to another outstanding performance from senior ace Austin Pollack, that frame may not remain empty for much longer.
With Pollack on the mound, the Lincoln Trojans have been a tough team to beat during the 2017 playoffs. The left-hander has not surrendered a run since early April, while delivering four straight complete-game shutouts to lead his club into Friday's 8A state semifinal at Hammond Stadium in Fort Myers. That scoreless streak continued, along with the Trojans' season, as Pollack pitched his club to a 4-1 victory over the Nova Titans to advance to Saturday's state championship.
"It was exciting and we're pretty happy," Lincoln manager Mike Gauger said. "These guys have worked so hard all year long and put it together, and Austin put it together for his fifth outing without giving up a run. So it is an awesome feeling and we're very excited for the kids and the school."
Pollack mixed his speeds and his looks to give the Titans' offense everything it could handle. The southpaw allowed just two hits and two walks while nearly going the distance, before the pitch-limit restrictions forced him from the contest with one out remaining in the bottom of the seventh. He did not allow any runs and piled up nine strikeouts.
"We just ran into a hot pitcher, and that could have been his fifth shutout in-a-row," Nova manager Pat McQuaid said. "He was efficient with his pitches. Our game plan was to try and get him out of there in the fifth or sixth inning with the pitch count, and we weren't quite able to do that. In high school baseball you always have a chance, and I didn't think the game was ever over by any chance. I thought our kids played hard, and it was just exciting to be here and to see the kids compete on this stage."
Lincoln (25-6) broke open a scoreless game with all the offense Pollack needed in support with a pair of runs in the top of the fourth. Also facing off against a tough lefty in Nova ace Trace Moore, the Trojans found some success in the early innings, before finally stringing some hits together in the fourth.
First baseman Dylan Barrett delivered an excellent day at the plate, and he got things started with a one-out single to left field. Hank Evans followed by drilling a shot deep into the left field corner for an RBI triple, and Jordan Ulee dropped down a squeeze bunt and reached with an RBI single when the Nova defense was left with no play.
"When that guy is pitching like that and you are able to put a couple of runs on the board with your guy throwing really well, it definitely eases the nerves a little bit and gives you hope that you can hold on," Gauger said. "Moore did a phenomenal job of keeping us off-balance, and he really hit his spots. So any runs against that guy and you are excited."
Although Lincoln found holes on the field and connected for 11 hits overall, it struggled to come up with another big hit to add some more insurance for its ace. Pollack continued to hit his spots, and mixed his breaking pitches in more as the game wore on. The Titans managed just two hits off him, and they had difficulties moving runners into scoring position.
"They were a real good hitting team and they hit a lot of balls hard," Pollack said about facing the Titans. "Luckily, we were just able to make plays and get runs."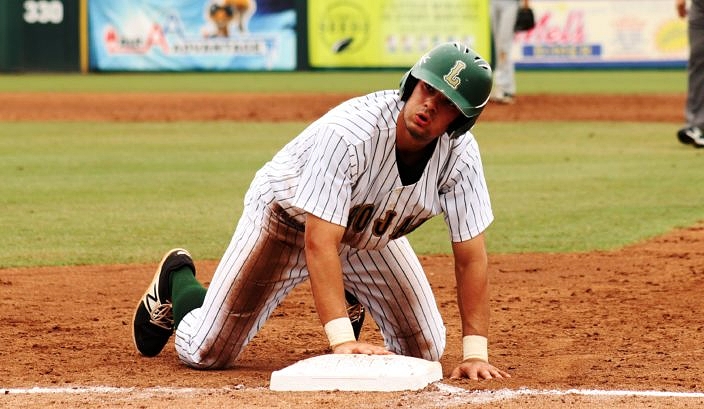 Lincoln added two valuable insurance runs in the top of the seventh, after Moore left the mound due to the pitch limit. Pollack was hit by a pitch and then replaced on the bases by courtesy-runner Tahj Cunningham. Connor Burke dropped a sacrifice bunt that advanced the runner, Myles McCord singled to left and Barrett connected for his third hit of the day with a double down the left field line that drove in both base runners to extend it to a 4-0 lead.
When Pollack reached his pitch limit with two outs in the final frame, Nova made one final rally bid to get on the board and threaten to change the outcome. Daniel Hubert worked a walk, Jordan Campbell singled to left and Moore then reached on an error that allowed Hubert to score to end the shutout.
"Watching the bottom of the seventh, those two runs in the top of the seventh really made you feel like it was not going to be dire straights at the end. You can always imagine a late rally, but you just hope that it doesn't happen," Gauger said.
Reliever Nick Standriff recorded a called third strike to tally the final out and seal the big victory for his team. Now the Trojans are knocking on the door of a dream that they are reminded of every day, as they knock on that empty picture frame in hopes of finally adding the required image.
"Every time we walk out of the clubhouse we always tap it to remind us that we want to be that team that wins states," Josiah Miller said. "We all trust each other; we are a very emotionally-engaged team. We're always trying to hype each other up and trust each other like a family, and we always have each other's backs."